Framing and hanging guidance
Silk Impression Prints are sold unframed to simplify delivery and reduce postage costs.
The silk impression fabric does not crush easily but if there are any creases when you unpack, just lightly iron prior to framing it.
Framing Instructions
A framing & hanging Guide is shipped with every Silk Impression Print.
Excerpt from Guide :-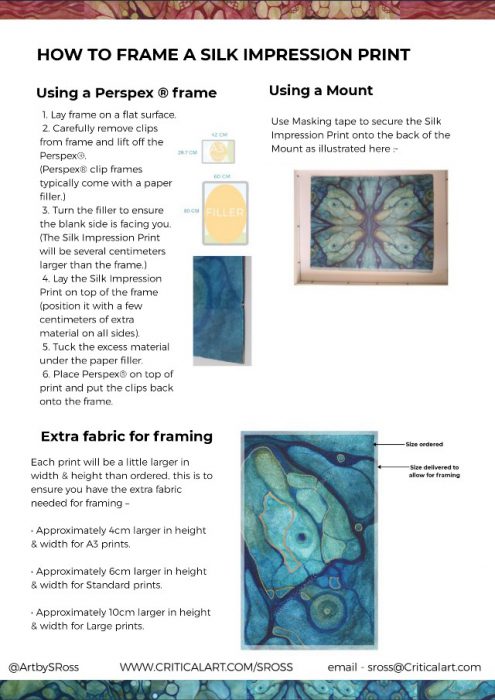 Click below to download a copy of the Guide :-
Orientation
Silk Impression Prints can be displayed as Portrait or Landscape.  If you have selected to add an Artists Mark it's location will be impacted by the Artworks orientation :-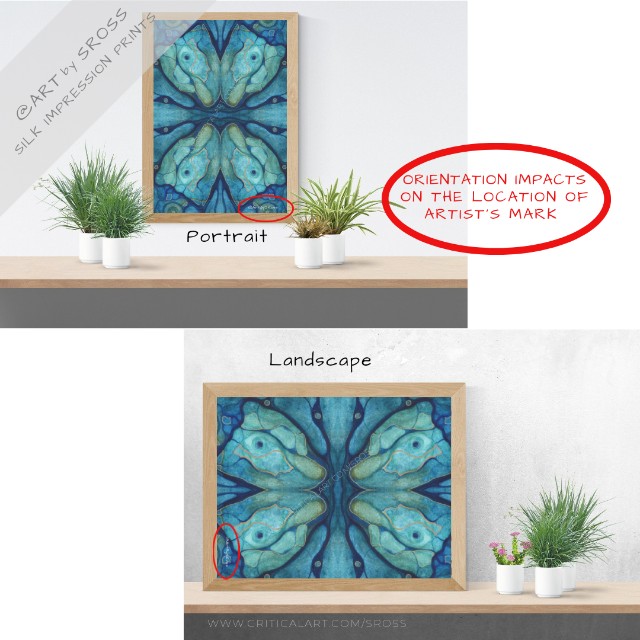 Click here for information on selecting the location of the mark.
Location of framed Artwork
If hanging a single Artwork it's best to hang at eye level. If you're creating an Art Wall by grouping a series of Artworks ensure that the centre of the grouping is at eye level, ideally about 60 inches from floor level.
If you're hanging Art above furniture e.g. a couch, as a rule of thumb locate your Artwork no more than 6 inches above the furniture and 2-3 inches apart from any other Artworks.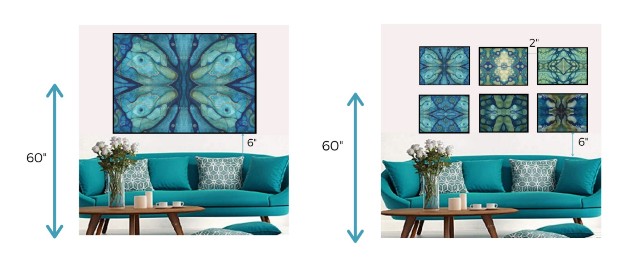 If hanging Artwork on a staircase, angle the Artwork in line with the staircase (as illustrated below) ensuring that the centre of the Artwork is at eye level, typically 60 inches from the step directly below. The Artworks can be displayed as a mix of portrait and landscape, you can also mix sizes and frame types.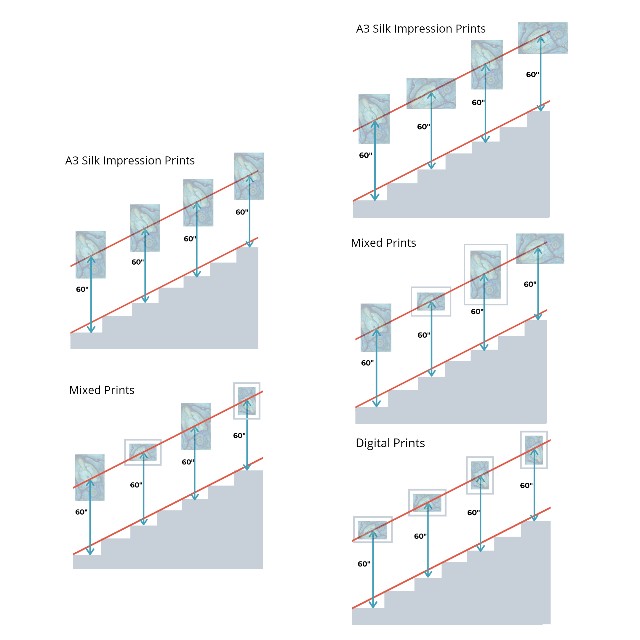 Exposure to strong sunlight can drain the colour from the silk impression fabric, so it's best to avoid hanging your artwork anywhere where it will receive a lot of direct sunlight. If you specifically want to hang the Artwork in your sunroom, make sure that the Artwork is framed with a UV filtering acrylic frame rather than a glass one.